on
May 31, 2016
at
5:05 PM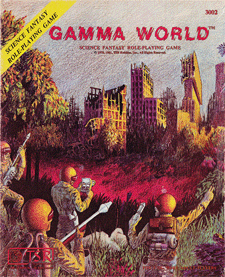 A little later than I wanted, here's the longest tale to round out my Flash Fiction Weekend! It's inspired by the description my sister gave me of a novel called Station 11, about a traveling Shakespeare troupe in a post-apocalyptic world. My favorite kind of post-apoc is rooted in the classic Gamma World and Fallout settings, so here's my idea for how one could make a go of things after civilization has become home to people like Thundarr the Barbarian.
He called himself Archon Blackstorm, though that was likely not his given name. Still, it wasn't like anyone was checking I.D. anymore, and names had become more like a personal brand that one tried to enhance whenever possible. Given his profession as a Rulemaster, those he worked with were happy to let him call himself whatever he wanted, so long as he gave them the services they paid for.
His mode of transport was one usually seen as one of many rusting hulks alongside the crumbling roads carving up the wastes. Unlike its stationary cousins, the Ford Solaris van he rode in was mobile thanks to its being lashed to an oxroach, a large, armor-plated creature of bovine intelligence and strength. It had the dual advantages of being able to ingest nearly anything to sustain itself as well as being unsettling enough to keep most bandits at bay.
The sides of the van were draped in painted canvas depicting collages of battling spaceships, knights fighting dragons, people wielding magic, cyborgs firing energy weapons, and armies both human and inhuman clashing under skies filled with warring gods. Atop the van's roof was a wooden sign in the shape of a multifaceted polyhedron bearing the driver's name above a larger word: Rulemaster.
Archon Blackstorm, who went by "Archo" when his full name started sounding pretentious, felt the many craters and potholes that were slowly forming in the once-smooth roadway. He knew a little of the previous world, and one of their wonders were materials that could repair themselves, given time. Roads could heal minor cracks and even fill in crevices if there was usable matter nearby to be absorbed. Even this wouldn't last forever, or, worse still, it would find new ways to adapt. The "Way of Bones" wasn't called that because of the arid climate, after all.
It was some combination of these invisible mechanical marvels and the persisting radiation after the attempts made to wipe them out that gave Archon the world he lived in, according to the histories taught by the elders and those who could make sense of the texts recovered from the ashes.
He, himself, was a person of letters. Numbers as well. For it was by combining the two that he made his living. Within his head and his van lurked the texts for innumerable ways to let people act out with imaginary avatars, where mathematical values applied with random numbers yielded adventure, glory, and most importantly, escape from the harsh realities of life.
↓ Read the rest of this entry…