on
August 22, 2017
at
3:19 AM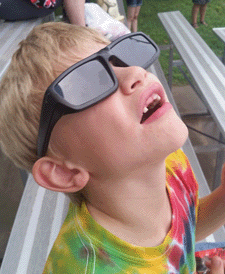 We experienced the total eclipse of the sun today, my son and I, traveling about an hour north of our home to Plattsburg. It's a lovely little town that had a public park with food vendors, two playgrounds, ample free parking, and even a collection of six Corvette cars to admire. It was the perfect spot for eclipse-viewing.
Except for the clouds. And then the rain.
Josh got to see the partial eclipse through his glasses when the clouds briefly gave a glimpse of the celestial goings-on. Even with the clouds, we still got to experience near-darkness coming and going as if a giant storm made out of steel plates was passing overhead. I mean, an eclipse is the Moon passing between the Earth and the Sun, so adding clouds just means we got even more eclipse, right?
Then an actual thunderstorm showed up and it's pretty much been raining ever since, as Missouri undergoes its eventual change into a tropical zone, complete with monsoons. I'm hoping our eventual dragon fruit and mango crops are among the most sought-after, to make up for all the flooding.
Leaving the area also reminded me how it's very easy to get into small towns, but very hard to get out of them en masse, and not just in a metaphorical sense. There are a lot of highways that go into T-junctions where those exiting want to turn right (which is easier) or left (which is cruel to everyone behind you), but you can't make your turn until there's no cross-traffic, which could theoretically never happen. To add insult to injury, I was in a bit of a dead zone, such that Google Maps couldn't tell me it had located a faster escape route home.
I'm still glad I went. I have a grainy video of a baseball field getting dark and then getting light, with Josh going from sitting beside me to climbing the backstop fence. I think he was just as excited to discover his Pokemon backpack glowed in the dark as he was about the astronomical events above us. He also was able to wade through some truly epic mud puddles and eat pizza for lunch, so I'm sure for him it was a day well spent.
And the sun came back, I think. I'll have to wait for the rain to stop before I can tell for sure. 🙂