on
September 25, 2020
at
3:26 PM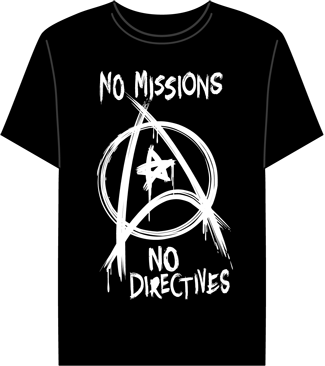 In the spirit of when whoever your favorite 'Trek captain is goes rogue, bends the regs, or (in the case of the Picard series), tells the Federation to go warp core breach itself, we've got a design perfect for commanding your unaffiliated starship in. Drawing from the classic "No Gods, No Masters" slogan and the anarchy symbol from countless punk rock posters, we've got a delta shield for an increasingly chaotic frontier.
It's just the thing for when you decide that giving phasers to cavemen would be pretty fun to watch and making crop circles on planets that haven't discovered warp drive yet is a great means of creative expression. And until October 5th, you can use code AWILLIAMS20 to get 20% off of any of the shirts I've designed! So if you're not ready to thumb your nose at the Admiralty, we've probably got something else that'll round out your wardrobe.
You could even wear it under your uniform, and they probably wouldn't know… unless there's some kind of really disturbing scanning technology I didn't know Starfleet used. Maybe check to make sure it won't show up in the transporter pattern buffer first.
Note: Management is not responsible for any demotions or loss of command, though if that does happen, you've got your outfit ready, right?