on
November 8, 2019
at
6:35 PM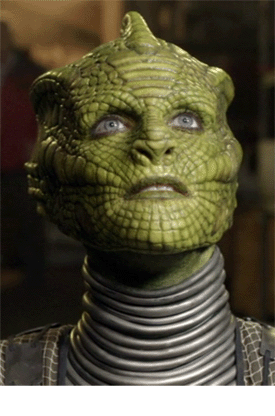 I recently ran across a PDF of a scientific thought experiment called The Silurian Hypothesis.
The quick summary is: Given how fragile civilization's products are over millions of years, it's possible that if a civilization existed at the time of the dinosaurs, we might not notice it. There are several mass extinction events that are kind of similar to the ones we're experiencing now, and the thought is that if there was supporting evidence, one might try figuring out how to look for signs that a large civilization of some kind is what wiped out so many species.
Note: This is not to say this actually happened, it's just that it's possible within the boundaries of what we know, which makes it a neat concept for science fiction. It's kind of like how the math works for some forms of warp drive, meaning it could work, but the current energy required is the equivalent of Jupiter's mass.
Anyway, the concept of dino-beings isn't entirely new (as the image from Doctor Who shows), and could arguably be the premise for the old sit-com, Dinosaurs, which managed to have one of the most downer endings in comedy TV history. The thing that stuck out after being reminded of the hypothesis is that I can't think of many instances where it was explored in harder science fiction, apart from at least one case:
Stephen Baxter's novel, Evolution touches on the idea, having species of dinosaurs that aren't in the fossil record. This is within the realm of possibility, as it's estimated that we still have 76% of all non-bird dinosaurs to discover, and we'll probably never find all of them due to degradation over time as well as some dinosaurs not having given us the courtesy of being fossilized. Baxter's novel even has sapient, tool-using dinosaurs, but the reason this kind of thing is difficult to find is their tools (sharpened stones, rudimentary textiles) are hard to preserve over thousands of years, never mind millions.
All that was just to point out that this makes for some neat fodder for any sci-fi writers out there to take another crack at. Imagine if a future probe or telescope found a really old dino-ship out past Pluto? Or go even further and have a dino-scientist pull something like the movie Frequency and start trading radio signals with a human's CB setup in the present day? Sure, the language barrier might be hard to overcome, but you can imagine you've got really smart dinosaurs. 🙂
By the way, this concept is not meant to make the "Distant Origin" episode of Voyager any less terrible. It was a cynical attempt to get ratings thanks to a Jurassic Park movie coming out at the same time, which I say should be a violation of the Prime Directive… somehow.