on
November 17, 2014
at
4:33 AM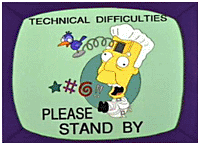 Good morning! This is to let everyone know that if things slow down content-wise a bit, it's probably due to the fact that my main work PC decided to stop working last night. It froze, the headphones emitting an ominous buzz. Resetting it resulted the monitors receiving no signal from the graphics card. All the fans and drives appear to be spinning up (which I hope means I lost little to no data), but I get no beeps, no RAM test on the screen, nothing.
After an overseas consult (my main computer dude is out of the country, but since it was daytime where he was, I got a nice and rapid response), the hope is that the power supply has degraded and isn't putting out enough oomph to let the motherboard do its thing. Failing that, we've found a replacement motherboard that will hopefully run the collection of peripherals I inflict on my technology.
So Monday morning will see me waiting outside of my computer monger of choice, where I'm told they'll at least check the power supply's health for free. From there, the possibilities are many and scaried. I'll keep everyone posted as to what progress is made. In the meantime, don't forget to hug your computer; you never know what tomorrow holds.