on
November 6, 2014
at
3:33 AM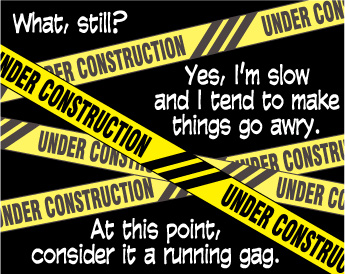 Whew! Regular readers will have noticed fleeting changes happening in various bits of the ol' website lately. This is due to upgrading WordPress and getting the latest version of Comics Easel up and running for each feature. So far it's been pretty smooth, but if things get wonky, I'm sure me touching the CSS somewhere is to blame.
Also, this has been a really busy few weeks. My wife and I had our anniversary, our son's birthday, and then Halloween all hit us at once. Also, I've been converting my comics to a format friendly with Drive-Thru Comics' site, which now has a button on the right-hand side of this page. I've got about 40 issues up on there thus far, and more are coming as soon as I get over this little hump where I long ago had a hard drive failure and lost several pages (mostly non-core stuff) that I'm trying to scan and/or re-create.
I'm also in dire need of getting that ps238 Kickstarter started, so watch for that in the near future. Be sure to read the latest ps238 pages to see what I'm shooting for in the next volume (like full color!). I'm also almost done with my inventory of trade paperbacks in my home so I can at least offer some of my trades in a soon-to-be-revived store. In the meantime, I'm freelancin' and working as hard as I can to keep the comics coming, and I thank everyone for their continued support. We think you rock!