on
March 27, 2016
at
2:40 AM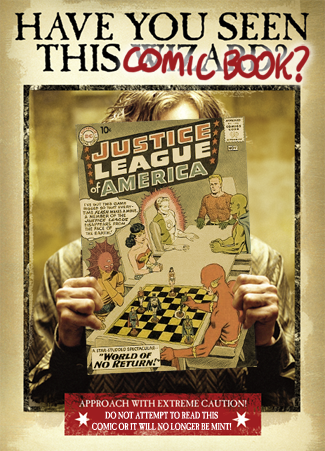 • Just to prove that all those comics you're hanging onto are worth it, more than $200,000 worth of vintage comics were stolen from a shop in Georgia. I wonder if you can claim your copy of X-Men #1 is more highly prized and therefore worth a few more bucks now?
• Amazon is bringing back the live-action version of The Tick, and the lead role is going to Peter Serafinowicz.
• Thanks to everyone who supports me on Patreon, and I promise to all current and future donors that I'll never spend any of their money on a $459 champagne gun.
• If your future children have relatives from Innsmouth, you might consider commissioning one of these Lovecraftian cribs.
• A pair of trailers for your enjoyment, here. The first is for the revival of Voltron on Netflix, though I hope they end up using the original theme music at some point. Also, if you didn't get enough Batman at the theaters this weekend, how about taking a look at The LEGO Batman Movie?
• A rather more challenging game than usual: Captain Forever. Destroy ships, salvage their parts, and graft them onto your own vessel. I imagine this is similar to what being the Borg is like.