on
March 17, 2014
at
2:45 PM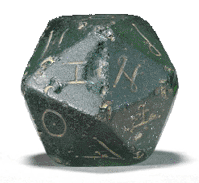 Perhaps "ponder" is too strong a word. Enjoy 'em anyway:
• Much as nerds of an earlier age enjoyed finding things like the Millennium Falcon toy was a part of the set for MST3K's Satellite of Love, it looks like Gandalf's sword, Glamdring, is part of the Iron Throne in Game of Thrones.
• If you ever wanted to be in a "Game Jam" contest that uses a random concept generator as the basis for your work, then the Insanity Jam is for you.
• The next season of American Horror Story will be set in a spooky carnival. Thanks a lot for reminding be about the too-soon-canceled Carnivale and the fact that Heroes jumped on the "dark carnival" trope as it spiraled into season 4.
• In SCIENCE! news, observational evidence of gravitational waves has been found by the BICEP 2 telescope. If I read this correctly, it's evidence of inflation during the Big Bang, which means gravity has quantum effects, which means it fits into quantum models of how physics works, which means we might be a step closer into having that whole Big Theory of Everything we've been searching for. I think. I'm not a doctor.
• Other areas of science are doing neat stuff, too, like having a concert featuring some caveman "rock" music, using the rock chimes our ancient ancestors played. That should've been the end of the anachronistic humor, but someone there just had to say these were ancient man's MP3 player and that ruined it for me.
• And rocks brings us to earthquakes, one of which was caught live on KTLA this morning. It's about time local news came with a "force feedback" feature.