on
July 1, 2015
at
2:52 PM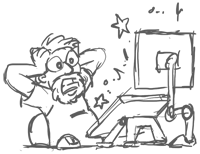 "Where has Aaron been?" you may be asking, and that's a very good question. It's been a cavalcade of time sinks, work stoppages, and general "this again?" in June, and I'm hoping it's finally over so I can get back to regularly entertaining everyone.
June started off with the aftermath of Memorial Day weekend, which isn't something one considers a stumbling block to accomplishing stuff, except I hadn't spent much time with any family in so long I was in danger of being given a wake and declared deceased. This was preceded by my wife's last week of teaching school for the 2014-2015 year, requiring me to be in charge of our son while she got her classroom ready for summer school use and the heavy-duty scrub down & furniture re-arranging her school does every year.
So back from that, and projects I'd promised that I thought would go quickly turned out to take longer than I'd thought. This is on me, and I know to better budget my time on this kind of thing starting by remembering that I'm, at best, a high school track team member and not The Flash, if you get my metaphor. On the up side, they turned out really well, especially for the Inconjunction convention this weekend. I'll have some of the pretty cool graphical stuff that came of up here later today.
Then there's whoever the jerkface was that wrote the malicious code which hijacked the site for a while. Every link caused an ad to pop up, which is a crime that ought to warrant punishments involving clamps, wet willies, and having to watch "Here Comes Honey Boo-Boo" on an endless loop. Thankfully, Drew was able to beat the zeroes and ones here into submission, and I believe we can get back to whatever passes for normal.
But the big whammy came last week when Kansas City got the worst storm-related power outage since an ice storm back in 2002. We had some kind of "wall of microbursts" go whipping through here which gave us winds at around 80 miles per hour. For my house, this resulted in a neighbor's tree coming down on both the power lines and the one for internet. Among the things I learned this weekend was that the pole that the lines were re-attached to required several decades of foliage overgrowth to be removed, revealing that it had the really old brown glass transformer covers still on it. This isn't entirely surprising, since the pole is surrounded by the rest of the block (if they'd needed to get a truck back there, several fences would've had to come down). Not surprisingly, with the tens of thousands of other outages that affected more than two houses, we were low on the list of priorities when it came to getting the juice turned back on, which is completely understandable.
So now I'm scrambling to get out from the backlog from that, and I'm probably going to sacrifice my 4th of July weekend to do so. This means my Patrons will get another chapter of my novel as well as a new installment of the Audio Log project in a week or so with an all-new setting. Thanks for sticking with me, and hopefully Kansas City will finally erect that storm-proof dome I've been bugging City Hall about.