on
September 29, 2014
at
5:09 PM
I completed my Full Frontal Nerdity assignment, put a new FFN strip up in its archive, and a new ps238 page will go up tonight. Whew! I've also been adding comics to my spot over at Drive-Thru Comics, so if you're missing any back issues, they're soon all be available for your favorite e-device!
And speaking of e-devices, I had to make this up when I heard about the iPhone 6 "bendgate" or whatever they're calling it when a new phone decides to crease a bit. I'm also allowed to make this joke because I did own a G1 for years, and its carcass is still in a nearby desk drawer, I believe: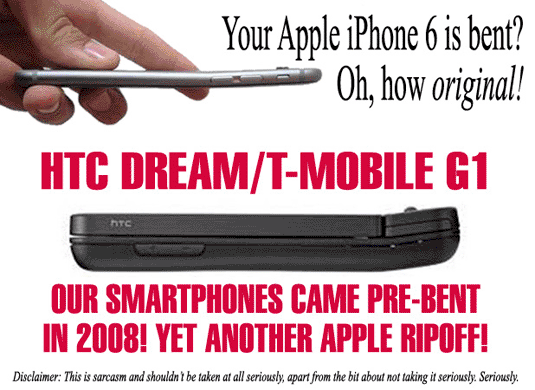 If that offends in any way, comfort yourself in the knowledge that in our household, my wife gets the uberphone (she has a Galaxy 4, or whichever one it is that gives you superpowers) so I'm usually about five years behind whatever cutting edge is.