on
June 3, 2014
at
5:21 AM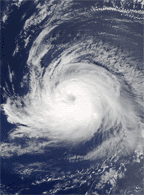 A recent study points to subconscious prejudices about gender causing people to conclude that some hurricanes are less evacuation-worthy than others because the storms have female names. Apparently, a Category-5 Hurricane Jennifer doesn't inspire the need to get away from the coast that a similarly-powerful Hurricane Bob can.
This reminded me of a stand-up comic I saw on A&E, back when it was the all-WWII channel with a break in the evening for improv in front of a brick wall. He was of the opinion that we just weren't using the scariest names we had in our arsenal. I think we can go a step further and start naming hurricanes after villains from movies, TV shows, and video games. I'd get out of the way if I heard Clarence Boddiker, Gozer the Gozerian, Emperor Palpatine, or Cersei Baratheon were on the way, and I live hundreds of miles from the coast!
So what would possess the owners of the Mortal Kombat franchise to pay for the next named storm to be officially given the name of Shang Tsung? Simple. They'd have the cover of "we're helping to save lives." Everyone becomes more aware of a favorite fightin' game (or cheesy movie), and (in theory) the field of marketing shows it can be used for good instead of evil (grin). If Shang Tsung's winds cause billions in damage, then it's a good thing his scary name and villainous association got more people out of the way, right?
Played right, this could pay for upkeep and expansion of weather-predicting equipment, emergency aid, etc. It's not a panacea, but how awesome would it be to see a hurricane roster that included Half Life 2's Dr. Breen or maybe my favorite evil dragon, Vermithrax Perorative?
Yeah, the sound is a bit off in that last clip, but it was the only one I could find without heavy metal music or something odd. Also, this post isn't intended to dismiss what looks a lot like an ingrained tendency in people, though I would like to someday see a Hurricane Voldemort.