on
December 2, 2013
at
11:05 AM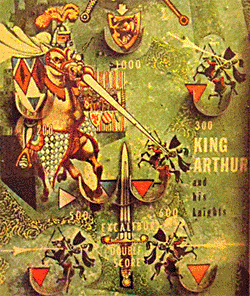 Image source: this Flickr stream.
I was in an antique store over the holiday weekend, and I saw an old King Arthur pinball game (the wood, nails, and spring version, not this one). It put me in mind of some of the more "hands on" games from the days of yore and made me wonder if putting together something similar would be as simple as putting nails in a plank and coming up with a way to deliver kinetic energy to ball bearings. Needless to say, it was late at night when I'd actually thought this might be true.
Probably the best example of the mechanical nightmare some of these things were can be seen on this page of repair projects done on vintage games. I figured the old Kentucky Derby horse race games were pretty complex, but scroll down on that page to "Quarter Horse Derby" to see all of the bits 'n' pieces involved. It looks like a dozen bicycles had an accident with a truck full of watch parts… twice. It makes the more "modern" handheld game, Blip look simple by comparison.
But that hasn't stopped enthusiasts from making games that don't rely on traditional components like screens made up of pixels. A few examples:
• Here's an attempt to make a game that's a kind of real-world mechanical version of the classic Scorched Earth tank game.
• Then there's this game that uses a sensor to tell when you've crashed as you fly over a paper-scroll landscape.
• And something that's probably closer to what I'd be capable of making, a game called Space Alien Invasion.
Perhaps I should stick to boards with nails and ball bearings.