If AIM is dead, does that mean HYDRA killed them?
on
March 14, 2012
at
11:18 PM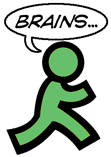 Okay, Marvel comics jokes aside, it looks like AOL Instant Messenger isn't doing too well. I have to say I never thought much about which messenger service I used, I just made sure whoever I wanted to IM with used a service that was compatible with Miranda IM. Of course, I wasn't looking to somehow make it work with other social networking sites, a webcam (there'd be complaint letters) or other bells and whistles.
What's worse is that it appears AOL's misfortunes have downgraded the value of my Episode III CD.