Off to Gen Con!
on
August 14, 2014
at
1:34 PM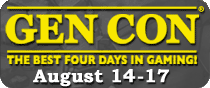 As you read this, I'm on the road to Indianapolis for Gen Con 2014! I'm getting a little bit of a late start as this is the first week of school for my lovely wife, Cristi. She's had to spend nearly every waking hour getting her classroom ready, and this morning was Josh's first day of school at Cristi's school. It's almost an after-school special… at school. Or something.
Anyway, I'll be at Gen Con from Friday through Sunday, so come on by booth 1401 and taunt me with your new 5th Edition D&D books. 🙂
Needless to say, thanks to the hectic week, the comics are a little off-schedule. I'm also still trying to work out what the finalized schedule will actually be, so keep an eye out for that. I've also got a potential project where I do the writin' and someone else does the art chores, which I'll be sure to broadcast loud & clear about if it gets off the ground. Cheers!