Thursday linkage with Peter Dinklage.
on
February 20, 2014
at
6:22 PM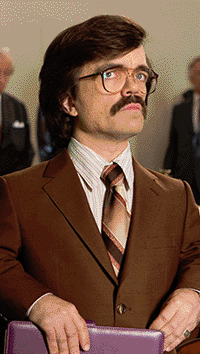 • Comics Alliance has posted a ton of character portraits from X-Men: Days of Future Past, including Mr. Dinklage, who gave me an excuse for a rhyming headline. Quicksilver still looks really odd to me. He's the one in shiny leather, which should make him easy to spot.
• In other related news, our universe's version of the Invisible Woman is a con artist who pretended to be an Interpol policeman with the power to vanish. I make it a policy never to give money to anyone whose abilities, real or not, includes vanishing.
• Speaking of supervillains, in 2012, a reporter crashed an initiation party for a Wall Street fraternity. Let's just say it doesn't cast the 1% in the best light, though they really only have themselves to blame.
• Here's a YouTube clip of a delightful automated device called a "Plotclock." The room would smell of dry-erase markers, but that's the price of progress, right?
• Flappybird may be gone, but Flapthulhu is ready for downloading (and you can name your price for the game). Currently it's only available on Windows, but Mac and Linux versions are in the works.
• Long ago, some scribes drew some characters in illuminated manuscripts, and today we laugh at them.
• And we end with this massive vintage toy blog, which includes a lot of sci-fi and TV toys. There are also a lot of items that make you wonder how they got approved in the first place.