So for Halloween, my kid said something nice and spooky…
on
October 29, 2013
at
5:23 AM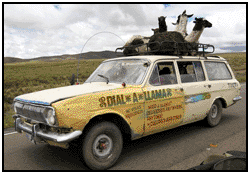 The picture will make sense later. Just remember llamas.
As many of you are aware, I've been down with a nasty head/chest cold the past two freaking weeks. I do feel markedly improved (unless Murphy's Law is listening, in which case I'm still at death's door), but a few nights ago when putting my son to bed, my sinuses were full to bursting, my head was swimming, and I generally felt like poo. One of Josh's latest bedtime traditions is for daddy to "make a bridge." I sit in the story-reading chair, put my feet on his bed, and he walks from his bed to my lap, balancing on my legs. Yes, he can add "Circus Performer" to his potential resume.
"Make a bridge, Daddy," he said last week.
"Daddy doesn't feel too good tonight, Josh," was my muttered reply.
"Why?"
My snark filter was buried in mucous, so it missed my next utterance: "Oh, I don't know. Daddy probably made some bad life choices along the way."
Josh seemed unconcerned. "That's okay, you can try again next time."
He just turned four, so I figured he still didn't have the whole linear-time-thing down pat just yet, not to mention his concept of age seldom goes beyond whatever milestone his older cousins have reached. "I don't think it works that way, Josh. If I had to do everything over, you might not be here, and–"
"No, Daddy. I mean you can try again after you're done being grown-up and you get to be a little kid again."
Either my son thinks I'm going to have some kind of fling during a post-mid-life crisis, or he's telling me to expect to be reincarnated. He didn't tell me how long I had before I found out, so I thought it best if we just read a book about the letter "M" and call it a night.
I did think to ask if he was, perhaps, remembering his own previous existence as a Buddhist Lama somewhere, but he's seen The Emperor's New Groove, so the subject of lamas or llamas wasn't likely going to get me more X-Files plot points out of him any time soon. Stupid Disney.