It's the irregularly-scheduled linkdump!
on
October 3, 2013
at
4:59 PM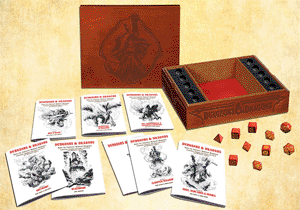 • That item to the left is something I can't believe I didn't hear about before. It's available on November 19th, and it's a nice reproduction of the original D&D "White Box" books with a wooden case and everything! I hope they preserve the "errata" sections where they corrected what went wrong with the print galleys.
• While I'm wishing for consumer products, I wouldn't say no to a Cthulhu-ish sofa.
• Back to gaming with an article that shows us what Monopoly properties look like in real life.
• We switch to music now, seeing an anime ghost-girl and a haunted pair of shoes doing a rendition of "Moses Supposes" from the classic film, Singin' in the Rain.
• And now a truly high-brow flash game, Age of Wonder. You are Eratosthenes, and you need to figure the proper angle and power needed to lob scrolls of knowledge at the residents of Ptolemaic Egypt. It's a practical application of education, right?