Agents of SHIELD: All other comic book media franchises, take note of Earth-199999.
on
September 25, 2013
at
3:25 AM
Before I get into the specifics of Agents of SHIELD's first episode, here's a snarky thing I noticed at around 10 minutes in: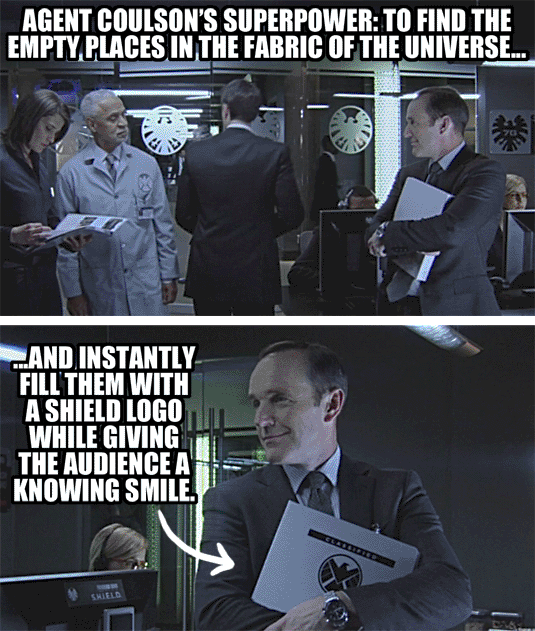 Coulson's watch might have changed time as well from shot to shot, but I didn't record it at a high enough definition to tell for sure. Anyway…
Superheroes might not be your bag, but Agents of SHIELD (I'm not going to put in the periods as I'm trying to conserve pixels) is a great object lesson for just about every other franchise out there making the jump from one medium to another. It's also a great example of how to start a show with a wider continuity without burdening the viewer with giant info-dumps for the uninitiated or boring retreads for those who might know the genre (or even the specific fictional universe) better than those writing it.
The Marvel Universe, or at least, the one seen in The Avengers, is given the same treatment as if someone was referencing a commonly-known news event. All that was required was a nod to the fact that in this show, aliens, guys in powered armor, mythological god-beings, and super-powered individuals exist, and that was plenty. It also took a page from Fringe, in that we're starting out with the secret agency being about helping the "gifted" to come to terms with their powers before they became a problem instead of trying to capture them and put them in a lab somewhere. This is really smart, especially given how crowded the Marvel Movie/TV universe is probably going to get. If you have one person who can fly and blow things up with beams from their hands, the goal is to capture them for study. If you have loads of people in costumes that can bend reality, fight off threats from other dimensions, or demolish half of New York while trying to stop a bank robbery, then your priorities really become co-opting as many of them as you can and re-directing their energies to more constructive pursuits.
What also helps this show is that it's smartly-written. We're getting into spoilers here, so I'll put the rest of this after the cut.

The opening voice-over was pretty overly dramatic, but it's later revealed to come from a group that wants to publicize how people are starting to get superpowers. As a YouTube video narration, it's not the silliest I've ever heard, so I let that one slide. The woman who performs it (and an even worse one later) gets interrupted mid-soliloquy later on, which was just what this viewer wanted. The show also lampshades a lot of things people would naturally question, like, for example, how Agent Coulson is back from the dead if there's more to his return than even he knows. Someone even called their job at SHIELD a Journey Into Mystery. Well played, scriptwriter.
The show had a nice habit of taking the expected and turning it on its head. Agent Coulson and his new protege are interviewing a hacker named Skye. She knows things Coulson wants to know, and he pulls out some comic-book-logic truth serum in a nasty-looking injector gun… and doses his colleague. He does this so he has to tell Skye the truth about anything she wants to know about SHIELD, in the hopes of bringing her into the fold. Nice turnabout, and probably the last thing one would expect in this day and age of humorless NSA shenanigans.
The plot was a little throwaway, about an ongoing attempt to create super-people (from Iron Man 3) by making an arm-mounted kitchen sink of origin materials called "Extremis": Gamma radiation, super-soldier serum, and alien technology. Of course, this doesn't end well for the recipient as they tend to eventually explode. Our protagonist, a working-class man named Mike, volunteered for this after being injured at work and losing his job. Unable to regain his employment and with Extremis warping his sense of identity, he decides that he needs to re-invent himself and that starts with kidnapping Skye, who had approached him earlier when she videoed him using his powers to rescue someone (the source of his super-gizmo) from an exploding building (blown up by another Extremis user gone critical). He's able to give a succinct and probably familiar view on life from the bottom of the heap, though it's one that takes into account not only those who crush those who aren't in the boardroom, but those who walk the earth with the powers of gods. Again, it took a cliche many of us have seen before and gave it some relevancy and polish.
In the end, Mike is subdued thanks to Chekhov's Super-Tranq Gun, so we may be seeing him again as a SHIELD asset should the plot warrant it. Skye is offered a place with SHIELD, and she and Coulson "drive" off into the sunset in his appropriately-modified flying car.
The only real criticisms I have are for some of the character types on display. Fitz and Simmons are two halves of our team's technology researchers. They've got UK accents, are constantly jabbering one-liners and technobabble, and have loads of SCIENCE! at their command. It's like they tried to make a two-person version of the Doctor. Thankfully, there was the rest of the cast to show up and make them not wear out their welcome. Skye will be an okay addition so long as they lose the wide-eyed personality so steeped in comic book lore that she often sounds like one of the narration boxes from a Jack Kirby comic. She doesn't sound "real" to me, unless she has some odd backstory where someone kept her prisoner and made her watch an endless loop of every Spider-Man cartoon from the 60′s through the mid-90′s.
I think this show could easily be a long-term source of awesome, depending on what parts of the Marvel U. they go with. I'm hoping some mention of mutants will emerge, since that's the only super-source of power not touched on in this episode. I don't know if that'll run afoul of the licensing deal that Fox has or not, but I'm sure someone is working out ways around that as I type.
Oh, and one other thing struck me: The show had an actual musical score in places, as opposed to the usual 'generic synthesized incidental music' so many shows seem to employ, if they have music at all. It lent it an air of super-gravitas that I rather enjoyed. Now let's see how they do with episode 2.