What week is it again?
on
September 22, 2013
at
12:55 AM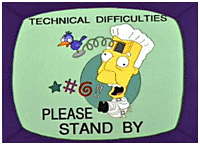 Thank you everyone for hanging in there with me. This has been one heck of a week, and I kept slipping farther and farther behind in my schedule. Between having to go to court, catching some flavor of virus, trying to re-wire the house so my internet would work, and generally putting out various fires, the website suffered. Rest assured I should be back on a regular posting schedule come Monday. I'll try to make up for the gaps in the archives as best I can, and assuming I didn't miss the cutoff, you'll be able to see the fruits of my late-night labors in the third issue of Gygax Magazine in October. As soon as it hits the stands, I'll be free to post the two-page Full Frontal Nerdity I did for issue 2, so keep an eye peeled for that.
Anyway, I thought I'd give everyone an update before I got back to valiantly trying to make time slow down and my computer speed up while I doodle furiously in digital ink.
Cheers!