You can't do this to a Peter Dinklage movie, can you?!
on
March 6, 2013
at
10:33 AM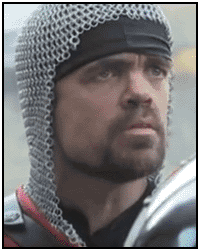 I've been seeing news bits about a movie created via a successful kickstarter called Knights of Badassdom for a while now. Apparently, this LARPing comedy is going to be released in a hacked-up form by a madman. The screening of this version, made by someone who by several accounts bankrupted the company and kicked out everyone who'd worked hard to make it a project people were excited for, went off yesterday, I believe. I don't know if the potential distributors knew what had happened or even found the film appealing, but I hope the original film is eventually released and those who created it get to reap the rewards.
I mean, come on. Peter Dinklage and Summer Glau? They deserve better. This site has more info and links and holds out the hope that the movie isn't doomed to its current patchwork form. Here's hoping they're right.