Trekkin' Trivia and other… trivia.
on
March 1, 2013
at
5:09 PM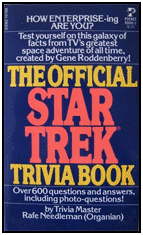 If anyone has the Star Trek: The Next Generation Technical Manual somewhere, you'll have noted all the bits of trivia about the jokes hidden in the sets of the show. Often, this was text that was too small to read… before the age of high definition TV and/or a level of obsessiveness about fandom that our current era has achieved. Someone just found a trivia bit that's akin to one of Doctor Crusher's bio-bed meters reading "medical insurance" on the show Star Trek: Voyager. Apparently, a list of dead star fleet personnel comprised the main characters from The West Wing. Add that to the Tommy Westphall TV Universe crossover project and see what happens.
In addition:
• The future with organic computers is coming, but the hive mind will be made out of rat brains.
• A few posts back, a woman was shot by her stove. Not to be outdone, a man was shot by his dog.
• And my post-apoc senses tingled to hear that the imperiled Metro: Last Light is releasing in May, emerging from the wreckage of publisher THQ's bankruptcy.