There's snow business like snow business…
on
February 21, 2013
at
1:27 PM
Here's a sample of what the current snowfall in my neck of the woods looks like: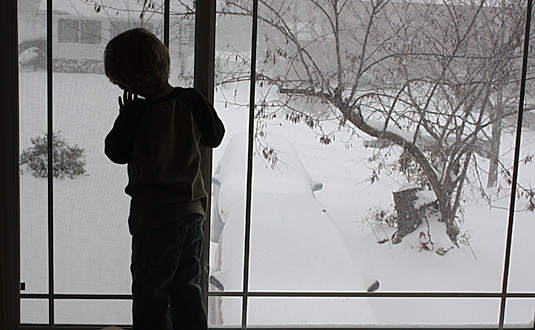 Josh enjoys the view out of the office window overlooking our driveway. For those wondering how we can be above the driveway but on the first floor, we have an old house (circa 1917, I think). The driveway is a few feet below the front yard's "ground level," and it slopes further, leading into the garage, which is actually under the room this photo was taken in. Lest anyone think that a luxury, even if you had a car in 1917, you'd have to drive down a narrow stone-lined hill into the enclosure and then turn to the left before parking if you actually wanted room enough between you and the rock foundation to be able to open your door. In short, if I had the money, I'd probably just fill it in and level the remaining driveway.
Where was I? Oh, right. Kid. Snow. Cute, eh?