Pixarian crewmembers, more meteor, and other random concepts.
on
February 18, 2013
at
10:45 AM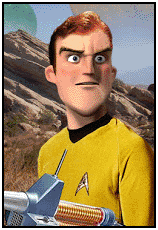 • What if Pixar made Star Trek? One artist answers that question. Regarding Sulu's skin tone, the person who created this set of images is color-blind, which is probably why the helmsman has bits of magenta in the shadows of his mouth.
• The Russian Meteor is still being investigated. Two animated GIFs claim to have the real explanations behind the event: This one is somewhat educational and this next concept blames the efforts of a mouse-based media company.
• Here's a little more background on how System Shock 2 took about a decade to be released again.
• Perhaps you covet the Throne of Swords. In reality, it might be best if some of us tried to become the rightful heir to The Throne of Nerds.
• Sales of the Wii U are being called "abysmal." This article crunches the data and presents several looks at it based on other historic console sales.
• This is a game based on the Unity engine (which if you've been hesitant to install, I think Wasteland 2 will run on it, so there's that) and combines steam locomotives with pinball: Tricky Tracks has you trying to give your trains just enough "oomph" from the pinball plunger so they'll stop at their destination without shooting past.