So what was REALLY falling over the Urals?
on
February 15, 2013
at
1:15 PM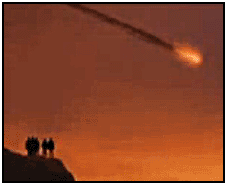 No, I'm not a conspiracy theorist. The plummeting/exploding object-from-space has graced many a movie, and since a number of them spang to mind (after coffee), I figured I'd assault you with them:
• The Blob: To stop the (original) monster, we have to keep old dudes from finding any fragments and poking the contents with a stick. Failing that, the teenagers that find him need to callously leave him to his fate, though I suppose that would only slow it down by a week or two. Similarly, it could be that plant-infection from Creepshow that gets Stephen King.
• The Enterprise: Depending on which movie you like, it could be the 1701-A or the 1701-Abrams.
• An Imperial Probe Droid: This makes sense, since it's more likely to find Hoth-like conditions in the Ural Mountains. And no, I'm not suggesting any of the locals resemble Wookies, unless they think that's a complement.
• Thor's Hammer: It's not out of the question that he made Odin angry again.
• Superman's spaceship: This means the DCU just got rebooted again, doesn't it?
• The Martians: Remember what HG Wells taught us and cough on every alien you come across.
That should cover the basics, though more than a few movies posit that the zombie apocalypse will start with a virus from space, so keep an eye on those Russian dashcam clips on YouTube for further developments.