I would be tempted to get one of these even if it was a "Twilight" DVD set.
on
February 8, 2013
at
3:29 PM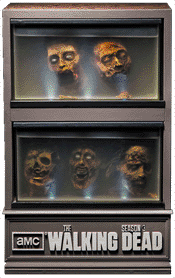 I was listening to NPR a while ago and one of the film critics was lamenting that digital downloads are starting to replace physical DVDs just when the entertainment industry has figured out how to make amazingly cool containers for their media. This is exemplified in these images of The Walking Dead's third season DVD case. It's a case where you arrange zombie heads in transparent aquariums on the front, fill them with water, and then (according to sources in the article) it lights up. Best of all, since they're rotting noggins, they'll look even more authentic if you don't ever clean it out. Heck, you might want to drop some pond scum in there just to speed up the process!
I'm also thinking a modified container like this would be a great way to serve Halloween Jell-O.