The fight to keep the Space Marines free!
on
February 7, 2013
at
2:23 PM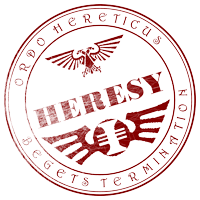 As was noted before, Games Workshop is questionably using a trademark they have on the term "Space Marine," the basis of which is questionable at best since the term has been in use in literature since 1932 and is a sci-fi staple. Even if one can say that the trademark is valid, getting a novel called "Spot the Space Marine" taken off of Amazon is a copyright issue, not a trademark issue, as was noted in this article from Boing Boing dot net.
The book's author is in touch with the Electronic Frontier Foundation over this, and every bit of "signal boost" to the story has helped demonstrate how un-original (to Games Workshop) the Space Marine concept is. It also highlights how, even when the "little guy" is in the right, if they can't afford lawyers, they can't demonstrate in court how unjust the action taken against them is. One might be reminded of certain t-shirts poking fun at a certain blue box with a flashing light on top that got cease-and-desists from the BBC who have more lawyers than I could ever afford (even one) to point out that the United States has parody laws.
Anyway, here's hoping this might finally cool off the lawyer-types who think that everything ever made should be owned all the way back to the 17th century, locked away and available for litigation at the drop of a hat… which would be job security for them. Hmmm…
The image for this post came from (warning: this page is pretty much SFW, but the rest of the wiki isn't always so) the "heresy" entry at 1d4chan. I'm sure the Inquisitors shall be visiting me shortly…