A new villain race has emerged in World of Warcraft: The IP Thieves Guild
on
January 17, 2013
at
3:20 PM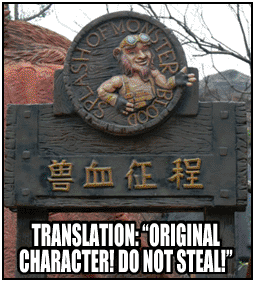 I think I mentioned that this was in the works a while back, but China has opened its blatantly ripped-off World of Warcraft theme park. The photos from a visitor, posted to Reddit, also show a dip into Starcraft for, ah, "inspiration." She answers questions about her visit here. Maybe whoever bankrolled this sees it as a fair exchange for the use of panda bears in the WoW-iverse all these years?
The interesting thing will be to see how this pans out. I mean…
In other news today, Activision-Blizzard has launched "Project: You're Not Fooling Anyone," a campaign to highlight blatant copyright theft in China. In response, China has created a "What Are You Going To Do About It" task force, headed by a newcomer to the international business spotlight, a man calling himself "Li Roi Zhengkins," though some have questioned the validity of his credentials. Players of World of Warcraft report most powers and abilities for Pandarian characters are being nerfed without reason, and several panda players have found themselves being set upon by PVP gangs in areas they previously considered safe. More news as it happens…"
It's almost like a something you'd expect to hear out of Spider Jerusalem's TV in the background of a page of Transmetropolitan, isn't it?
In closing, here's a map of the park, from the same Reddit user, above. It's also worth noting that the park cost $48 million to build, which seems kind of cheap. If that's because licensing wasn't an issue, that'd make me feel better, but I'd still want to bring along a parachute and personal air bag.
The photo at the head of the post is from this site which has even more images to peruse.