I want one, even if it probably wouldn't fit me…
on
June 14, 2012
at
2:50 AM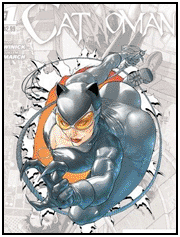 Another day, another comic book cover containing an impossible pose so nobody feels cheated out of a curve, I suppose. Maybe there's a modeling agency that's being used somewhere that has women who can move in N-Dimensional space? At least Catwoman's not wearing stiletto heels like in the next Batman movie. If you scroll down that page to the second picture, both figures in it seem to be suffering from some kind of anatomical anomalies. I had to make sure the male was wearing pants first before I could see that odd angular bulge at his midriff as something other than a foreshortened thigh.
Anyway, there are other things to see:
• Behold the Shirt of Armor! It's almost like King Arthur's warm-up suit, don'cha think?
• Contrary to the evidence presented in the documentary series Star Trek: Voyager, the latest investigation doesn't point to Amelia Earhart being abducted by aliens.
• Film school geeks are helping to fill in parts of the Mass Effect lore. Don't miss both clips in the article.
• And Adult Swim presents another flash shooter game, Ultimate Robotoru. It's a pretty mindless side-scrolling shooter that pokes fun at anime tropes, but if you wanted to pilot a gundam-style robot today, you're in luck.