Lance Henrikson says not making a Millennium movie would be crazy…
on
May 13, 2012
at
8:27 PM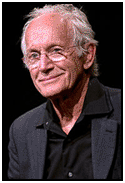 I'm sure Henriksen voiced his thoughts in his signature gravely tones that the younger folk in the audience would know only as Mass Effect 3's Admiral Hackett. He said, among other things, that one advantage to a Millennium film would be the relatively low under-$30 million budget, which is probably going to be the biggest plus as far as the studio is concerned. I was a fan of Fox's Millennium back in the day when Chris Carter was the go-to guy for sci-fi/horror that takes place in "the real world." I wish it had been given another season to work things out instead of "ending" via a special episode of the X-Files that had dead FBI agents becoming zombie horsemen of the apocalypse.
The show was hampered by having to put out a self-contained "killer of the week" first season, which really didn't give viewers an idea of just how weird and cool the mythology of the series would be. Even my friends who were fans of horror/slasher movies were even getting sick of the formulaic way season one was created, and several didn't stick around for the following two seasons. I do agree with Henriksen that it could resonate even more strongly with an audience today as a series, though I'm not sure a movie would work. When at its best, the show had our hero trying to fight this Illuminati-like conspiracy laced with mysticism and even supernatural elements. That takes quite a lot of build-up and groundwork to pull off, so unless Fox ran some kind of Millennium-marathon that everyone watched, ticket sales would probably be limited to owners of the show's DVD set.
The two other things that the movie would have to work with are (1) the title losing its punch over a decade ago and (2) they killed off Jose Chung (seen previously in my favorite X-Files episode, "Jose Chung's From Outer Space"). Still, unless it becomes a SyFy Original, it probably wouldn't be any worse than the two X-Files movies we've had, right?