The "it's what o'clock in the morning?!" post.
on
April 21, 2012
at
3:30 AM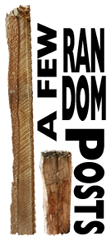 • Here's an image blog with a topic I'd never have expected to see: Context-free patent art. Most of it is related to video games, but they're also kind of humorous to think about being actually used.
• I don't look at too many movie posters or promo photos these days, but apart from any sexism and overuse, when a visual trope makes Twilight look good, it needs to be re-thought.
• Are we about to start mining asteroids? The economic potential seems huge, and (if all those documentaries I've seen on TV are accurate) space-faring mining companies seem to be magnets for alien life forms. Given that the preferred safe zone for mining appears to be the Lagrange point between the Earth and the Moon, I predict the earliest windfall recipient of this effort will be ZZ Top, or whoever licenses their music.
• Physics puzzle fans should enjoy Romeo Go-Go, a game where your only move option is forward, but your abilities to affect the environment are pretty numerous, including lightning bolts, weights, and bubbles. Get goin', there are princesses to rescue.